CHICO – Today, Assembly Republican Leader James Gallagher (Yuba City) and his wife Janna hosted a luncheon in Chico to recognize the 2023 recipients of the Assembly District 3 Woman of the Year Awards.
The five women, one from each county in District 3, attended a special lunch at Butte Creek BBQ in Chico, accompanied by a guest and their nominators. Gallagher presented each woman with a formal resolution and offered thanked them for their service to community.
"It's 'a deep honor to recognize these five women as our district's 'Woman of the Year' recipients. I want to express my heartfelt appreciation for these exceptional women for the difference they have made in our community," said Gallagher. "Their selfless dedication to service truly embodies the North State's caring spirit. Through their contributions, they have touched countless lives and made our area a better place to call home."
Gallagher's office solicited nominations throughout the district to honor outstanding woman from each county he represents in the State Legislature.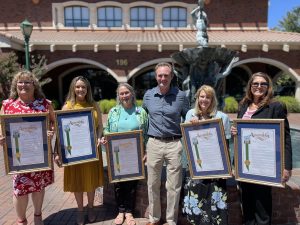 Assembly District 3 Woman of the Year Honorees
Butte County – Donna Hottinger
Donna is retired from Butte County where she served as an employment eligibility supervisor for 35 years. She is a devoted member of the Oroville Church of the Nazarene serving in many leadership capacities and is a founding member and director of the Hearts Being Healed ministry. After losing her son in a tragic car accident, Donna changed lives by visiting high schools, speaking about the dangers and responsibilities of teen driving.
Glenn County – Christine Zoppi
Christine has worked in public service for many years, most recently as Director of the Glenn County Health and Human Services Department, and goes above and beyond to support her community in this role and outside of her official duties. Christine has spearheaded several projects throughout the community including the implementation of the Behavioral Health Court, creating a "no wrong door" center, supporting suicide prevention efforts, and helping fire victims.
Sutter County – Stephanie Steele
Stephanie's accomplishments have greatly impacted local businesses and the community as a whole. During the Camp Fire, COVID-19 pandemic, and other crisis events, Stephanie worked tirelessly procuring, stewarding, and delegating resources to those who needed it most. She has been networking with businesses, nonprofits and municipalities to help solve common goals. She cares deeply for her community and is committed to everything she does.
Tehama County – Megan Weiss
Megan serves as the curriculum coach for all three schools within the Los Molinos Unified School District, where she has earned a sterling reputation for her strong advocacy on behalf of all students. She goes the extra mile in everything she does, chairing numerous education-focused committees outside the scope of her position, sharing her talents and expertise with the Los Molinos Chamber of Commerce, and serving as a 4-H swine project leader. 
Yuba County – Martha Bunce
Martha Bunce served 38 years in the public school system, as both a teacher and administrator. Among many other accomplishments, Martha currently serves as Executive Council Leader of the Marysville-Yuba City Branch of American Association of University Women, which advocates for women's equality in school and the workplace. She oversees a large fundraiser to send young girls to summer science camp and helps facilitate an annual STEM Conference at Yuba College for over 800 young women from the Yuba-Sutter community.
###