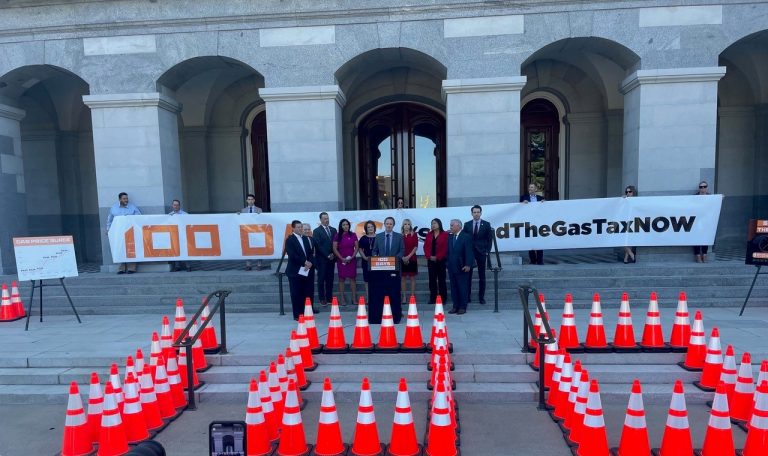 SACRAMENTO – Today, Senate and Assembly Republicans held a press conference at the State Capitol demanding immediate action from Capitol Democrats and Governor Newsom to reduce gas prices. Friday, June 17, marks 100 days of inaction by the majority party as Californians struggle with sky-high gas prices and soaring inflation.
The state budget approved by lawmakers earlier this week failed to include any gas price relief for Californians who are paying the highest prices in the nation. Legislative Republicans have been advocating for a gas tax suspension that would save consumers 51 cents per gallon. Democrat inaction has also resulted in a failure to stop another gas tax increase scheduled for July 1st. 
Lawmaker statements are below:
Senate Republican Caucus Chair Brian Jones: "California gas prices are skyrocketing higher than the federal minimum wage, Californians should know there is a way for immediate relief at the pump, but Sacramento Democrats are too greedy to stop taxing them. With the gas tax set to increase in just a few weeks, Californians will know who to thank for gas prices that keep shattering records." 

Senator Rosilicie Ochoa Bogh: "We're already seeing the ripple effects of the current gas tax increases – in our food, service costs, housing, and in the cost of doing business… Businesses will have no choice but to raise their costs in order to absorb these increases as there is no relief for them. This is going to spiral even further out of control over the next few months disproportionately affecting the most vulnerable in our communities: our entry-level wage workers, our seniors on fixed income, individuals with disabilities, and our single parents, among so many others."

Assemblywoman Suzette Valladares: "Sadly, because the majority party refused to act, on July 1, the gas tax will increase to .54 cents… I'm also a working mom, with lots of working momma friends. I hear their frustrations and concerns about the price of gas every single day. They are struggling. The cost of a tank of gas in my district is equivalent to five cans of baby formula, or roughly two weeks of feedings. I know single moms are choosing to fill up half of their tanks so they can make sure they have the money for baby formula. This is heartbreaking."

Assemblywoman Laurie Davies: "Yet again, Governor Newsom and Sacramento Democrats have set yet another terrible record for the state. This week, we will reach 100 days since they promised Californians relief from soaring gas prices… Republicans have put forth solutions again and again this year. Sacramento Democrats managed to pass an entire budget on Monday with no mention of gas price relief for Californians. Remember, these are your tax dollars, and they are using them for their own agenda. Unfortunately, relief is not on their agenda… Five other states have recently suspended their taxes…Why is it that Sacramento democrats always talk about California leading the nation, yet in this aspect, we are so far behind?"

 Assembly Republican Leader James Gallagher: "Republicans stand united in California calling for gas price relief now. To the Democrats: stop the delays, stop the infighting, stop the excuses. 100 days is far too long and the people of California demand relief now. We're prepared to give it to them. We are encouraging Democrats, the legislative leadership and the governor to weigh in on this. Without them, we are still stuck with no relief."
 
United at today's event, the following members of the Legislative Republican Caucuses stood in support of immediate gas tax relief: 

Assembly Republican Leader James Gallagher (R-Yuba City)
Assemblyman Kevin Kiley (R-Rocklin)
Assemblywoman Laurie Davies (R- Laguna Niguel) 
Assemblywoman Janet Nguyen (R- Huntington Beach)
Assemblyman Jim Patterson (R-Fresno) 
Assemblywoman Suzette Valladares (R-Santa Clarita)
Senator Brian Dahle (R-Bieber)
Senator Shannon Grove (R-Bakersfield) 
Senator Jim Nielsen (R-Tehama) 
Senator Rosilicie Ochoa Bogh (R-Yucaipa)
Senate Republican Caucus Chair Brian Jones (R-Santee)
To view today's press conference, please click here.